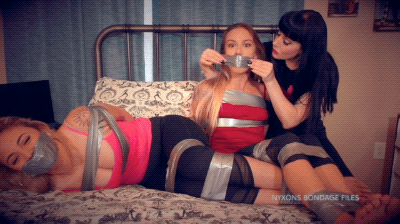 28 photos; 18:55 video
NIKA & NAOMI... KEEP A SECRET CHALLENGE
starring Nyxon, Nika Venom & Naomi Swann

Bondage, Damsel In Distress, Struggling, Duct Tape, Tape Bondage, Mouth Stuffing, Hand Over Mouth, HOM, Tapegag, Onscreen Gag, Onscreen Ties, Barefoot, Blonde, 18/19 Years Old

*this is a custom clip
Nika & Naomi are filming a live webcam show, and they ask their viewers for requests. Nika reads a request on her phone for a "Keep a secret challenge", where her & Naomi take turns trying to tell a secret about the other one while they try to stop each other by covering the other's mouth. Naomi offers to go first, and warns Nika that she better get ready to have her secret revealed. Nika leans close to Naomi & whispers a secret in her ear. Nika then reaches her arm around Naomi, and hovers her hand over her mouth. They count down from 3, and Nika frantically starts to talk, but is immediately cut off by Nika's hand being clamped over her mouth. The girls wrestle & grapple with Naomi urgently trying to talk while Nika tries to stop her. Naomi pries Nika's hand from her mouth & begins telling the secret, but Nika stops her & tells her she's cheating & can't use her hands. Nika then tells her to wait a minute, and runs off camera to grab something, returning with a roll of duct tape. Nika tells Naomi that the duct tape is to keep her from cheating, and Naomi hesitantly puts her wrists behind her back. Nika wraps the duct tape tightly around Naomi's wrists, and then the girls resume their game. They countdown again, and Nika clamps her hand over Naomi's mouth as she desperately tries to spill Nika's secret. The girls decide to switch roles, and Naomi is cut free.
Naomi tightly tapes Nika's hands behind her back, and the girls continue with their Keep A Secret Challenge. When it's over, Nika tells Naomi to untie her, but Naomi clamps her hand back over Nika's mouth to keep her quiet. Naomi says that she has a brilliant idea, and that she did it on a previous show, called "What's In Your Mouth Challenge". Naomi tells Nika that she's going to get someone to help them, and runs off camera. When she returns, she's with Nyxon. Naomi clamps her hand back over Nika's mouth, and Nyxon tapes Naomi's ankles together. Naomi then places her hand over Nika's eyes, and Nyxon places a small sock inside of Nika's mouth. Naomi taunts Nika, and when Nika can't say what it is that's in her mouth, Nyxon takes 3 strips of duct tape & places them over Nika's mouth. Nyxon then tapes Nika's upper body & legs tightly together. Naomi tells the viewers that they'll be right back, and the scene fades.
When the show returns, both Nika & Naomi are tightly bound in duct tape. Naomi complains to Nyxon that this wasn't how things were supposed to go, but Nyxon ignores her & places 3 strips of duct tape over her mouth, too. The girls struggle on the bed until the scene fades.