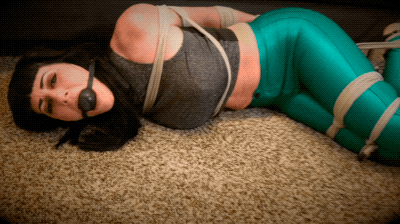 35 photos; 30:14 video
NYXON... BRATTY FRIEND TAUNTS BABYSITTER & GETS IN OVER HER HEAD
starring Nyxon

Bondage, Progressive Tie, Rope Bondage, Ballgagged, POV, Disco Pants, Struggling, Damsel In Distress, High Heels, Elbows Together

*this is a custom clip
Nyxon has just found out the her friend (POV) was babysitting, and somehow her charges tied her up & gagged her, and she was unable to get free. Nyxon can't believe that a little brat was able to tie that well, and laughs at her friend, telling her that they were just ropes. Nyxon's sure that if her friend really wanted to get out that she would have succeeded. She then tells her friend to go ahead & tie her up like those brats did, and she'll show her how easy it is to get out. In fact, Nyxon tells her to use more rope & to make it as tight as she possibly can, and she'll STILL get out. And, if she can't get out, just leave her there for an hour or so.
The next scene has Nyxon with her arms tied tightly behind her, elbows touching, and a chest harness pressing her arms against her body. She still thinks it's too easy of a tie, and asks for more ropes. So, her friend (off camera) ties her legs with a lot of rope, then ties a rope from her wrists to her knees, causing Nyxon to arch her back. Nyxon tells her friend that she needs to be gagged, and to make sure that she uses a big ballgag. The ballgag is loose in Nyxon's mouth at first, and she tells her friend to tighten it up.
Finally, we see Nyxon tied tightly with a lot of rope, a large ballgag pulled tight in her mouth. She struggles to get free, but is having a bit of a problem. She rolls herself onto the floor, where she tries to untie some of the ropes, but they're just tied too tight. Since poor Nyxon can't seem to get out of her predicament, her friend leaves her there to struggle.