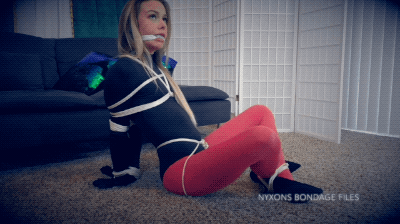 26 photos; 20:05 video
NAOMI SWANN PRIVATE STRUGGLER
starring Naomi Swann

Bondage, Damsel In Distress, 18 Years Old, Blonde, Leotard, Tights, Self-Gagging, Mouth Stuffing, Cleave Gag, Onscreen Gag

*this is a custom clip
Naomi Swann knows you love to watch her struggle, so she puts on a pair of black satin opera gloves, stuffs her own mouth with some fabric, then ties a tight cleave gag around her head. She stands up, turns around, and crosses her wrists behind her back, keeping her palms open. She looks over her shoulder, inviting the viewer to come tie her up.
The next scene opens up, and Naomi's wrists & arms are tightly bound behind her. She looks over her shoulder, testing the ropes & moaning sensually through her gag. She goes over to the couch, sits down, and continues to struggle sensually.
In the next scene, and Naomi is sitting on the floor lotus style. Her ankles are crossed & bound, and she has chest ropes & a crotch rope in place. She struggles sensually on the floor, knowing that you're watching her & wanting to add even more rope. Her legs are bound together just above the knee, and there are ropes framing her butt cheeks (off camera). Now that Naomi's bondage is complete, she continues to struggle & moan through her gag just for you.