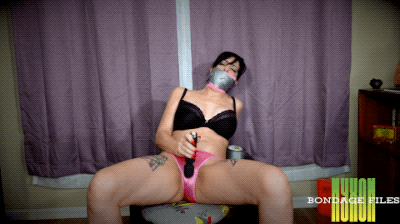 NYXON... SELF GAGS & FORCED ORGASMS
starring Nyxon

Self Gags, Mouth Stuffing, Panty Gag, Tape Gag, Cleave Gag, Layered Gags, Microfoam Tape, Vet Wrap, Duct Tape, Masturbation, Satin Panties

*this is a custom clip
Nyxon sits in her dining room with a handful of panties. She explains that she loves nothing more than having another woman's panties in her mouth, and having them sealed in with tape or cloth wrapped around her head. She tells you that she stole a bunch of her roommate's panties & wants to try out some gags to see which muffles her the most.
1st gag- Nyxon packs her mouth with a large pair of panties, then takes some 3" microfoam tape & tightly wraps her head about 4 or 5 times. She rubs the gag a bit, then tries to talk through it. She rubs her pussy, bringing herself close to orgasm, but then stops right before. She removes the gag & remarks that that was hot, but she thinks she can do better.
2nd gag- Nyxon takes another pair of panties, and gives them a real big sniff before stuffing them into her mouth. She takes a thin piece of cloth & cleave gags herself nice & tight. She takes a 2nd piece of cloth, and ties it over the first gag. Then she takes a third wider piece of cloth, and layers it over the first 2 gags. She checks out her gag, and rubs her pussy again, this time bringing herself to orgasm.
3rd gag- Finally, Nyxon takes 2 pairs of panties & places them into her mouth. She takes some pink vet wrap, and wraps it nice & tight around her head. Then, she takes some silver duct tape & layers that over the vet wrap gag. She grabs her vibrating wand, places it on her pussy, vibrating herself until she cums loudly through her gag.