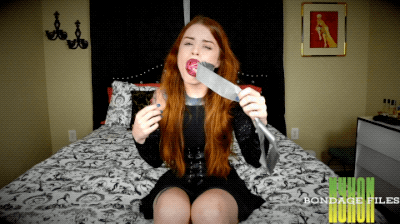 14 photos; 21:38 video
JASPER REED... MAGIC SPELL BOOK EXPERIMENT
starring Jasper Reed

Bondage, Gag Magic, Tape Gag, Mouth Stuffing, Ballgag, Panel Gag, Leather Straps, Struggling

*this is a custom clip
Jasper enters Nyxon's bedroom, and comments on how gloomy it is. Nyxon (silent POV) tells her that she bought a cool spell book at an antique store, and holds it up to show it to Jasper. Jasper reaches for it, but Nyxon quickly yanks it back. She tells Jasper that she wants to be the first to use it, and that the spell can be broken by saying her name 4 times. Anxious to get started, Jasper tells Nyxon to hurry up, but is cut off mid-sentence when a loud snap is heard, and her mouth is magically taped shut by a single strip of duct tape. Jasper's eyes go wide & she tries to speak through the gag.
She removes the tape and says, "What the hell? That's a real spell book?! I thought you found some dumb decoration!"
Nyxon says something to her, and Jasper responds, "Uh, no I think that's enough. We don't need to do anymore".
(Brief pause as Nyxon speaks in silence)
Jasper- "Well, I don't care what you want, and I can stop you, remember? Nyxon, Ny..."
The sound of fingers snapping, and Jasper is cut off again, this time by a sizeable red ballgag that instantly appears in her mouth. She mumbles around it, her eyes going wide in shock again as she looks down at her mouth in surprise. She continues mumbling & trying to speak as she raises her hands to her mouth, grasping around over the ball, her lips & her mouth as she tries to figure out how to remove it. Finally, she manages to find the buckle & unfastens it.
Jasper- "You bitch! I'm not going to let you keep doing this! Nyxon, Nyxon, Ny..."
Nyxon snaps her fingers again, and this time, Jasper's mouth is instantly wrapped heavily in tape with a large pair of panties stuffed inside her mouth. Her eyes go wide yet again as she looks down in her mouth in wonder, running her hands over her taped mouth & feeling around the tape to try & free herself as she mumbles & protests. She continues feeling around her mouth while she attempts to argue, clearly trying to get Nyxon's name out, but to no avail. Eventually, she reaches the tape & begins to unwind it. She coughs out the panties when she is finally done.
Jasper- "Nice try, but you're going to have to do better than that! Nyxon, Nyxon, Nyx..."
Nyxon snaps her fingers again, and Jasper is now cut off by a panel gag, strapped tightly with several small padlocks on the straps. Her eyes go wide, and she begins to paw at it, pulling at the panel & trying to pry it free. She fumbles with the locks & strap, shaking her head attempting to speak while occasionally getting frustrated. Eventually, Jasper turns to Nyxon, shakes her head with fear & wide eyes as there's another "snap". Jasper is shocked when leather straps are suddenly binding her arms together behind her back. She twists & turns to see what;s going on behind her when there's another "snap" & suddenly she's sitting on the floor bound in leather straps. The video ends with Jasper struggling while bound & gagged on the floor.