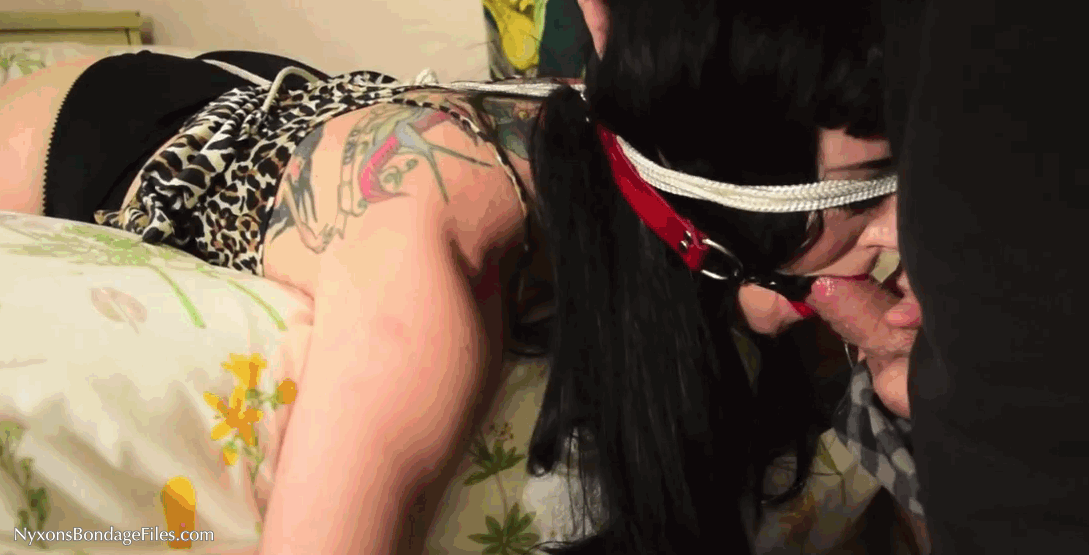 21:25 video
NYXON... TIED, TAKEN & FUCKED PT 1
starring Nyxon
Bondage Sex, Bondage, Bound Sex, Rope Bondage, Bondage Blow Job, Ring Gag, Struggling, Forced Blow Job, Role Play, Hand Over Mouth, Blindfold, Brunette
Part 1 opens up with our intruder breaking into Nyxon's front door, and creeping down her hallway & into her bedroom. He sees her fast asleep, and he wakes her up only to place his hand over her mouth to subdue her. When Nyxon comes to, she's tied on her bed, frogtied, blindfolded with rope, and a large ring gag in her mouth. She struggles around whimpering, and the intruder gets onto the bed with her, and starts to play with her a little bit. He rubs her crotch through her black satin panties, and then pulls her huge tits out of her nightie & gropes them a bit as well. Nyxon tries to struggle & protest, but he just doesn't care. He spreads her legs apart, climbs on top of her, and humps her for a moment, then tells her that it's time for the second part of his evil plan. The next scene has Nyxon on her belly & tied spread eagle on the bed. The rope blindfold is still on her, and the large ring gag is still in her mouth. Nyxon struggles trying to get away, but the man has her tied so tightly that she will never get away from him. He gropes & plays with her some more, but now he's ready to get down to business. He walks around in front of her, pulls his dick out of his pants, and shoves it into her gagged mouth. Nyxon protests & begs him to stop, but her drool makes her gagged mouth extra slippery, and the man just keeps shoving his cock into her mouth, loving every minute of it. After a few minutes, he gets up, removes his pants, and gets behind her on the bed. Now he's ready to get down to some real business. He removes her crotch rope, pulls her satin panties to the side, and shoves his cock deep into her. Nyxon screams, but the more she screams, the deeper he rams his cock into her pussy. The intruder fucks her hard & good for quite some time, and even takes a few orgasms from poor Nyxon before deciding that he's going to keep her. He cums (not shown in video), and then tells her that he's going to transprt her to his home where he's going to turn her into his own personal sex slave.
Part 2 can be found at: ShinyBound
In part 2... Nyxon comes to once again, but this time in a different and unfamiliar place. She is nude and tied openly and very tightly with satin scarves. She is hooded with a satin pillow case over her head held in place with a cruelly tight ball gag. She struggles to move and get away, but it's pointless.. She is too strictly tied. The creeper returns and pulls her around onto his lap. He manhandles and fondles her and then rubs her poor exposed clit until he makes her cum twice. He tells her that he has a lot more in store for her and leaves the room. He returns shortly with a shiny spandex suit and tells her to put it on. She does it almost unquestioningly at this point. She wants to escape, but also knows she is going to have to play along long enough to find her moment.. Once the suit is on, her grabs a bunch more rope and ties her up in an extra tight harness. He is putting a lot of rope on her that she thinks is very unnecessary. Theres no way she can move, yet he keeps adding more. The next rope he puts on he anchors to a pulley in the ceiling and then it dons on her.. She's about to get strung up and suspended. She is scared now and decides to fight hard, but it's much too late. With a pull of the rope, her feet come out from under her and she is now swinging with no control. He ties of a few ropes and tells her that the fun is just about to begin. Just as she goes to scream, he pulls up the hood of the suit, zips it shut, and thrusts his rock hard cock into her mouth through the silky material. "The more you cooperate, the easier time you'll have here.." he tells her. After what seems like an eternity he stops and pulls his throbbing member from her mouth and spins her around. A panic comes over her, as she knows whats coming next!! He trusts deep inside of her and she lets out a loud muffled scream. He pounds hard and fast.. She fights it as much as she can, but she can feel her body betraying her and working up to a huge orgasm. Before long, she is begging him not to stop. She cums again and again. When its all over, he leaves her tied and hanging there, destroyed and covered in cum. He says he has to leave, but he will soon be back for more. She moans "yes please.. I would love some more.." He gags her and drives away.