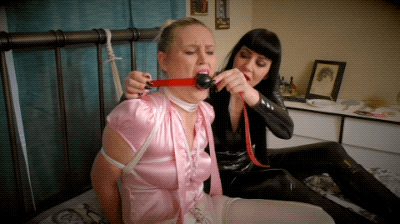 53 photos; 16:37 video
AMANDA BRYANT... TRICKED BY NYXON
starring Nyxon & Amanda Bryant

Bondage, Struggling, Damsel In Distress, Disco Pants, Satin Blouse, Frogtie, Ballgag, Tape Gag, Layered Gags, Onscreen Gags

*this is a custom clip
Wearing white disco pants, a shiny pink blouse & knee high boots, Amanda walks into the room & says, "Hello?". Out of nowhere, Nyxon appears & approaches her. "Ah, you must be Amanda". She looks her up & down, circles her a few times, then tells her that she's just perfect for her project. She grabs Amanda's hand, and leads her out of the room.
The next scene opens up with Amanda frogtied on the bed, arms bound tightly behind her & a ballgag around her neck. Amanda struggles slightly while muttering to herself. Nyxon walks into the room & onto the bed & asks Amanda if she thinks she can get out of it, or not. Amanda tells Nyxon that the tie is very tight, and then asks her if she could loosen it a little. Nyxon finds this quite amusing, and unbuckles the ballgag around Amanda's neck. Amanda's eyes go wide when she realizes that it's to go into her mouth. Nyxon places the ball into Amanda's mouth, and pulls the strap nice & tight. She then leaves Amanda on the bed to struggle for a bit.
After some time, Nyxon comes back into the room, and takes a 6 inch piece of microfoam tape, and places it over the ballgag inside Amanda's mouth. Then, she takes another strip of tape, and tapes Amanda's hands together in a prayer position. She then leaves Amanda to struggle on the bed once again.