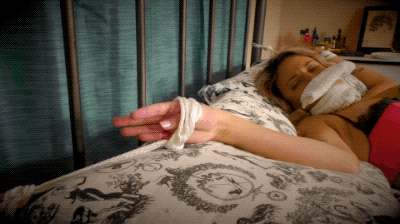 14 photos; 17:10 video
NIKA VENOM... BABYSITTER VS THE HENCHMAN STARTER KIT PT2
starring Nika Venom

Bondage, Hogtie, Pantyhose Gag, Struggling, Shiny Pantyhose, Shiny Panties

*this is a custom clip
Part 2 picks up right where part 1 left off, with Nika gagged & tied to the bed. She wakes up, gets her arms & legs free, then pulls down her gag. She sees the brown bottle on the night stand, and says, "That Henry is going to get a taste of his own medicine". She loads up the white cloth, and heads off to find Henry.
Henry (POV) is just waking up & noticing that he's tied up. Nika, with her pantyhosed feet propped up in Henry's lap, looks at him. "Well well well... look who's finally awake. Laughing gas my butt. Ha! Don't bother trying to get up. I tied you with a bunch of extra pantyhose, since you seem to like them so much. So, how do you like getting a taste of your own medicine? It's pretty fun, isn't it? Being all tied up like that. Now, what should I do with you next? You need to apologize for putting me out & tying me up. What's the matter? Can't talk since you're gagged?"
The phone rings, and it's Henry's mom. Nika places the white cloth in Henry's lap, then answers the phone. While she's distracted talking to Henry's mom. Henry gets himself free & grabs the rag. He sneaks up behind Nika, and as she's hanging up the phone, Henry places the cloth over her face, putting her out instantly. Then, he picks up the syringe & gives her a big dose right in her ass cheek. When Nika wakes up, she gagged & tied up in a tight hogtie. She struggles to get out, but she's tied too tight. The scene fades, and Nika finds herself laying on the couch fully clothed. She notices the pantyhose still tied around her neck, and examines the rope marks on her arms. Was it all a dream?